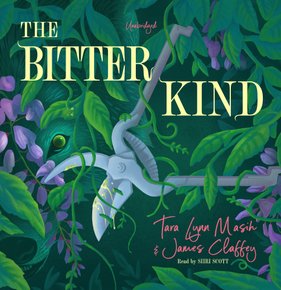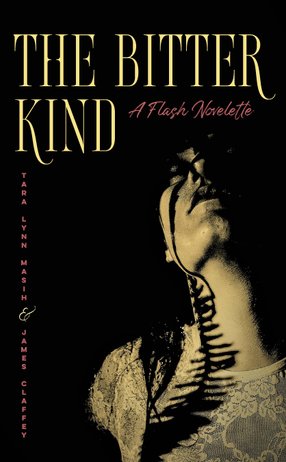 Semifinalist in Conium Press' Chapbook Competition
A Goodreads Reader Approved, Highly Rated Fiction Book
In this spare novelette, acclaimed flash fiction writers James Claffey and Tara Lynn Masih collaboratively create an original tale of loss and love, as The Bitter Kind deftly alternates between Stela, the daughter of a ship's captain, burdened by her family secrets, and Brandy, a Chippewa orphan, haunted by ghost wolves and spirits. The authors cross genres and borders between historical and contemporary, speculative and realistic, presenting two unforgettable characters on a journey toward their inevitable, fateful destination.
Advance praise for The Bitter Kind
"Both authors are masters of panning across years, then zooming in on the smallest details, building a sense of intimacy with two characters who start to seem more and more like kindred spirits. . . . A tremendous amount of plot lives within these pages. The prose is packed with lyrical richness. . . . Masih and Claffey have done here what flash fiction does best: create a story that is slim in pages but not in emotional heft."
—Necessary Fiction (read full review here)
"To read The Bitter Kind is to witness two writers who, in this slim 68-page volume, manage a marvel by beautifully performing two seemingly impossible tasks. . . . the first astonishing thing about The Bitter Kind: Masih and Claffey blend their styles so seamlessly that, aside from a very few turns of phrase, it's nearly impossible to tell the difference between their voices. The second astonishing aspect of this book is that Masih and Claffey create a rivetingly cohesive central narrative from flash segments. . . . Even more extraordinarily, they form a novelette with the scope and sense of fulfillment one would expect of a much longer work."
—Tupelo Quarterly (read full review here)
A fascinating lyric novelette divided between two alternating points of view . . . The Bitter Kind functions as a lightning rod for catharsis."
—The Bookends Review (read full review here)
"I was so immediately drawn to the characters at the center of Tara Lynn Masih and James Claffey's collaborative flash novelette. . . . [They] have given us something that feels so essential right now—one of those rare stories that makes you feel a little less alone."
—SmokeLong Quarterly (read the full review here)
"The magic of this book lies not just in the characters and the story, but also in the language . . . As we fall into Brandy's and Stela's worlds . . . we become part of the tale. It is the kind of exhilarating experience good fiction brings."
—The MomEgg Review (read full review here)

"The Bitter Kind is sixty-eight pages of legend, lemons, ghosts, and begonias, shifting deftly between genre and perspective."
—100 Word Story (read full review here)
"With two writers as well matched artistically as Tara Lynn Masih and James Claffey, a collaboration is cause to celebrate. This richly woven, haunting novelette transcends the confines of its brevity; feels tender, sprawling, immersive. The Bitter Kind is an alchemy, a duet, a gorgeous melding of two of our most treasured literary voices."
—Kathy Fish, author of Wild Life: Collected Works from 2003–2018
"With short, alternating passages, James Claffey and Tara Masih vividly illuminate the separate and commingled lives of Stela and Brandy in this original and elegantly textured novella. It is a story, human and soulful, of place, mysticism, and the hard-won ground we all struggle toward."
—Robert Scotellaro, author of Nothing Is Ever One Thing
"From ghost-soaked frontier towns to leafy waterways, frozen river basins, and the open road, Tara Masih's and James Claffey's parallel narratives tumble along through stunning landscapes of loneliness and beauty. The writing is evocative and tender, exploring both the haunted and the haunting; touching in its examination of broken things and masterful in its prose."
—Kimberly Lojewski, author of Worm Fiddling Nocturne in the Key of a Broken Heart
"With beautiful imagery and a seamless voice, Masih and Claffey move us through decades as two parallel lives seek solace and healthy human connection. Stela, long plagued by abusive relationships, and Brandy, spurred by tragedy and unlucky in love, are shaped and steered by the things that haunt them, and, perhaps, the things that will someday guide them to heal. This winning collaborative effort is both stirring and satisfying."
—Mel Bosworth, author of FREIGHT and coauthor of Second Acts in American Lives
"With their binocular lyric lenses, Masih and Claffey provide a lacquered and sanded depth to this compilation set in the chambered karst of our heartfelt heartland. The book is a layered lanyard, a laurel wreath, an ouroboros, Mobius's Mobius, an effortless enso, and a terrific torqueing torus. The diastolic/systolic dub-Dub, a syncopated sink or swim, of the call and response had me reeling, a time step timed to hit the one and the three. What I am saying is that this is a tour de force, a fait accompli."
—Michael Martone, author of Brooding and The Moon Over Wapakoneta
Cervena Barva Press, 2020